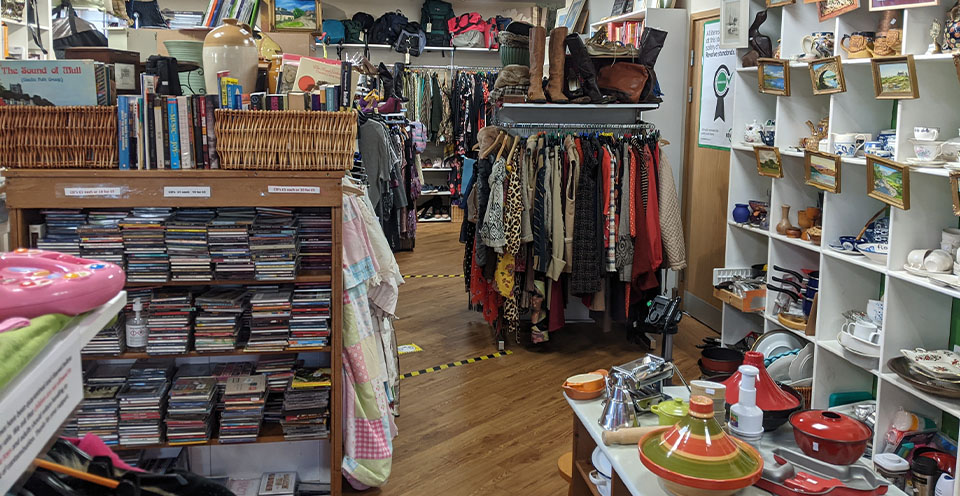 Island Castaways is the brand name of our charity shops. As part of the MESS way of reducing waste and promoting reuse and recycling on the island, we operate two charity shops on the island and one additional summer shop. We also host a annual fashion show at The Western Isles Hotel. This very popular event allows us to demonstrate the fabulous outfits which we have for sale in our shops at fantastic prices.
We stock a fantastic range of preloved goods in all our shops. Its always worth popping in as stock is added daily. If you don't see what you need, ask if we have it in storage or we could give you a call if we get one in.
We pride ourselves in the quality of our items we have for sale. All items have been checked and prepared for reuse.
Craignure
Our Craignure shop sells a large range of ladies ,men's and children's clothing, footwear and accessories as well as household textiles, bric a brac, great selection of books, dvd's and cd's , small electrical goods and in our nearby polytunnel a selection of furniture.
Summer opening times:
Mon-Sat 10:00-16.30
Sunday 10:00-16:00
Winter opening times:
Mon-Sat 10:00-16.30
Sunday 10:00-16:00
Bunessan
Serving the Ross of Mull, this shop in the centre of the village. It stocks a variety of clothing, textiles, bric a brac, books , small electricals and small furniture.
At the rear of the shop there is a bookshed. Payment is by a suggested donation of £1 per book.

Summer opening times: 
Mon-Sat 10:30-16:30
Winter opening times:
Thur, Fri & Sat 11:00-15:00
Bunessan Bookshed open every day 24/7 
Tobermory
We have a small pop up charity shop in the foyer of the Aros Hall every summer selling a selection of clothing, accessories and books. Renting this space in beneficial to the hall as it allows public access to their toilets for a donation to hall funds.
The community fridge is open whilst the shop is open to allow people to take and use food that would otherwise go to waste.

Open April 2023 (Summer only)
Mon-Fri 11:00-15:00
What we accept
Clothing – ladies, men's and children's, shoes- in good condition.

Accessories – bags, belts, hats, scarves, jewellery.

Household – bedding, curtains, towels, rugs.

Complete children's games and jigsaws, clean soft toys.

Baby baths, stair gates, fireguards.

Collectible items, vintage retro, antique.

Home ware such as crockery, glassware and cookware.

Small electrical goods in working order.

Furniture in good condition.

Mobile phones, ink cartridges (not toners).
How to donate
Drop off at either Bunessan or Craignure shop.

Put in clothing banks located across island. (please bag or items may be ruined by damp).

Arrange a van collection for collections of furniture or for bulk donations 01680 812 908.

We can do house clearances by arrangement.

Please remember to include your gift aid number when donating.
Soft furnishings without fire labels. All soft furnishings must comply with Furniture and Fire Regulations (1988) and have labels attached to confirm this.
Knowledge of compliance is not sufficient as we cannot even give furniture away without these labels being attached to the items. Only exception to this is antique furniture.

Broken Electricals – Electrical items must be known to be in working order. All electrical items will be tested by our qualified staff in accordance with Portable Appliance Testing Regulations.
Cookers, washing machines, dish washers & boxy CRT television sets.

Non-portable or any gas/petrol powered equipment.

Broken or incomplete toys.

Dirty, damp, paint or oil stained rags or clothing.

Shoes or boots too worn for sale.
Any UK taxpayer who donates goods for us to sell in Island Castaways can sign up as a gift aid donor. This allows us to earn extra money for the charity as we are able to claim an 25% extra from HMRC on your donated goods that we sell. To sign up all that is required is filling in a simple form at Craignure or Bunessan shop. You will be given a unique donor number which can be used every time you donate. Don't forget to give us your number with every donation.
Volunteer
We rely on our fantastic team of volunteers to operate our charity shops. If you have a few hours to spare on a regular basis or just occasionally, we would love to hear from you. Whatever your skills, whatever your passion, we have a role for you. There are lots of ways you can help and make your own role. We offer full support and training.
Typical tasks
Sorting donated goods and preparing goods for resale.

Creating eye catching displays.

You could also get involved in our annual fashion show.
Revolve
Our promise to you
Everything we sell is quality and safety checked by our trained members of staff in order to ensure we only offer items which meet our Island Castaways standards. All of our electrical items are tested to ensure they are safe to offer for resale. Where possible, anything which doesn't meet these standards is recycled so absolutely nothing goes to waste, something which is really important to us at Island Castaways.
Island Castaways Craignure shop is proud to be Revolve certified. Revolve is Scotland's national re-use quality standard which is awarded to businesses that work to the highest standards.  Certification covers legal compliance, trading standards, health and safety and retail best practice.